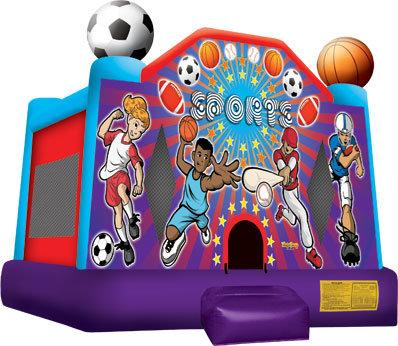 Sports USA Bounce House
Planning a large event that many kids will attend? The Sports USA Bounce House is the perfect pick for when you want to encourage children to get exercise while having fun! The graphic featured on the fire-resistant vinyl bounce house shows four athletic boys participating in the sports they love: soccer, basketball, baseball and football. On the front columns, an oversized soccer ball and basketball continue the sports theme and will catch kids' eyes even from on the other side of a crowded venue. Easy to inflate and clean up, the sports bounce house is great for boys' birthday parties, community events and sports team fundraisers and picnics.
The 360-degree windows in the Sports USA Bounce House keep things cool on hot days and allow parents to observe their children playing inside to ensure that everyone remains safe and happy. The bounce house measures 14'4" in length by 15'4" in width by 13' in height, meaning there is ample space for everyone to bounce, jump and play.