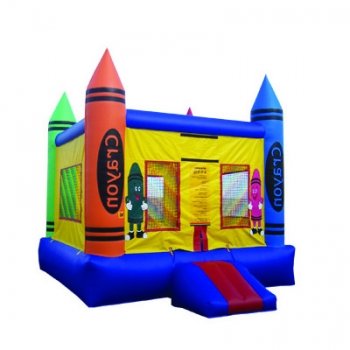 Crayon Bounce House w/ Basketball Hoop
Just as crayons always seem to have the ability to spark creativity in young minds, the Crayon Inflatable Bounce House rental is sure to spark kids' senses for fun and curiosity the moment they spot it at your next outdoor event. At each corner of this cute bounce house, tall, sharpened crayons in blue, red, green and purple serve as pillars and attract the eye instantly to the setup. Along the side panels, cartoon crayon figures invite kids to come inside and check out the fun bounce floor and basketball hoop. The inflatable bounce house has a walk-up ramp to make it easy for kids to climb inside and provides a safe, quick exit as well.
Measuring 13 feet in length by 13 feet in width by 14 feet in height, the Crayon Inflatable Bounce House is perfect for an event that will host a number of smaller children. Its small size makes it safe for kids ages 3 and up. Parents will appreciate the presence of the mesh windows, which keep the interior of the bounce house cool and make it easy to observe the fun from outside.