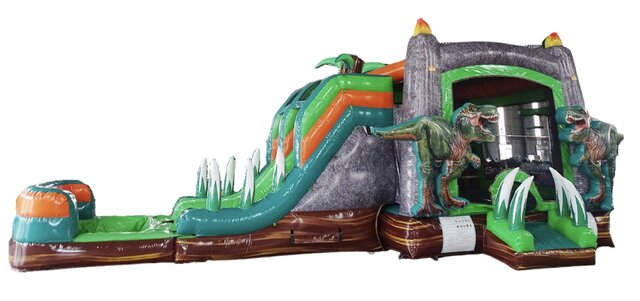 Setup Area: 38′ L x 23′ W x 14′ H
Actual Size: 33′ L x 17′ W x 14′ H
Monitors: 1 Adult Supervisor
Outlets: 2 on separate circuits
Age Group: 3+
Description
8 Hour Rentals – Free overnight if start time is 3pm or after
$50 Deposit (For Orders Under $350)
Dino Dive Double Lane Combo
Not a WATER Rental!!
Includes: Large Bounce Area, 2 Slides, 2 Basketball Hoops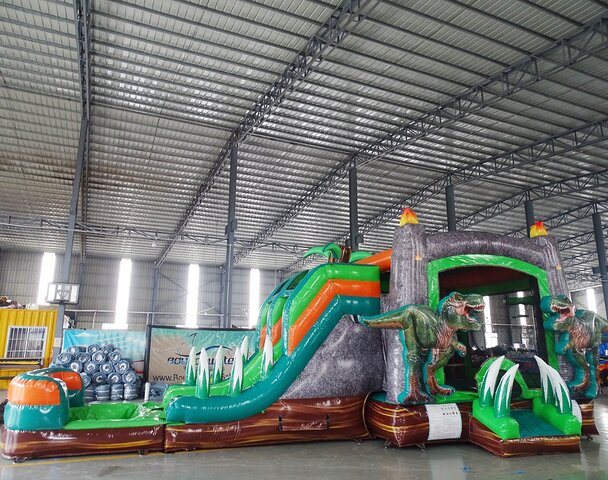 If you're looking for a way to make your little one's next birthday memorable, Rent a T-Rex Dinosaur Moonwalk. This bounce house and slide combination gives them and their friends more than one way to climb around and play, and it fits perfectly into any T-Rex dinosaur-themed birthday party.
The Dino Dive Double Lane Combo is a T-Rex Dinosaur Bounce House rental that is colorful, eye catching and sure to delight any kiddos with a love of dinosaurs. This is especially true if they are a fan of the tyrannosaurus rex, as there are two of them positioned along the entrance to the bounce house. The dinosaurs face one another on either side of the ramp leading up into the bounce house complete with long dinosaur teeth.
These teeth can also be seen along the sides of the slide that is connected to the front of the bounce area. There are two lanes of slides so more than one child can zip down them at once. At the base of the slide is a blow-up wall, so your kids can safely stop after sliding down.
To rent a T-Rex Moonwalk for a birthday party, block party or any other outdoor event, make sure you have enough space to accommodate it. This T-Rex Dinosaur Bounce House rental xj measures 33 feet in length by 17 feet in width by 14 feet in height. It requires a space of 38 feet long by 23 feet wide by 14 feet high in order to be set up.